Commercial and Retail Refrigeration
Service cabinets, walk-in coldrooms, fridges, freezers, beer cooling, ice machines, bottle coolers ...
We provide a wide range of retail refrigeration equipment serving the Retail (Supermarkets/Shops), Catering, Hotels & Hospitality and Pubs & Restaurants.
We offer a full sales, installation, service and maintenance package with all our retail refrigeration, customised to your specific needs.
Display Cabinets & Dairy Walls, Island Freezers & Chest Freezers, Upright Fridges & Freezers, Blast Chillers & Blast Freezers, Beer Cooling Systems, Butcher Cabinets, Refrigerated Prep Counters, Ice Machines, Salad/Deli Counters …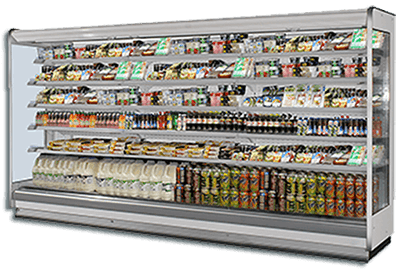 If it needs to be frozen or chilled, we have the equipment for it!

We believe in providing quality products at competitive prices – from trusted manufacturers such as Arneg, Smeva, NTF, Coreco, True Manufacturing, Williams Refrigeration, Kilkenny Cooling Systems, and Ryan Chilling Systems.
By choosing an experienced supplier like ourselves you will benefit from our many projects we have worked on over the years. We understand the critical nature of refrigeration and cold storing to your business.
If it is not managed properly it could lead to financial loss through food waste and in-efficient power usage. This is a business we know well and we strive to offer an unsurpassed level of service and expertise to assist you in every step of the process – whether it is a repair of a butcher counter or to install a full shop kit – we deliver !
Whatever your requirements, we will ensure that your retail space or food counter/storage areas are modern, stylish, cost-efficient and meet all of the latest energy ratings.
All backed up with our superb after-sales service and maintenance.








Sounds good! Whats the next step?
CALL US on 045 889 343
or get in touch for a FREE quote or site survey.
GET A QUOTE